By Janelle Menendez from West Hills Country Club, Michelle Moreno from Anthony's Pier 9, and Taylor Checchia from The Grandview

Let's face it, dancing isn't for everyone. So what other things can you do at your wedding to entertain your guests when they don't dance?
Here's a list of totally amazing guest experiences for your wedding day. And honestly they're so fun, your guests won't even think twice about a dance floor.
It's commonly known that guests always experience some type of "down time" at a wedding. This inevitably occurs throughout dinner service, in between each served course. I'm sure when you envision your wedding celebration, the last thing you want is your guests thinking it's a snooze fest! So why not give your guests something fun to do, while still seated at their table?

Printed game cards are an awesome way to keep your guests engaged throughout their four or five course dinner. These games also make for great conversation starters, especially when you have a table of guests that don't know one another! Check out these creative ideas below on Pinterest.
The shoe game is always a guest favorite. Everyone is sure to laugh along as the two of you sit back to back, holding one of your shoes in one hand, and your spouse's shoe in the other hand. Your MC will ask a series of questions which you'll answer by holding up the shoe of the person you think best fits the question. Hilarious disagreements are sure to ensue as the MC asks questions like, "Who is the better driver? and "Who snores the loudest?" For a list of over 40 questions to ask during the shoe game, check out this article from The Knot.
Many details, both big and small, go into creating your dream wedding. Your centerpiece plays a key role in the look and overall feel of your wedding day vision. Whether you love the aesthetic of a DIY arrangement, or the beauty of a floral centerpiece, one thing is for certain; your guests will try to claim the centerpiece the moment they take a seat at their table. No one wants to choose between your aunt and your college bestie winning the centerpiece, so make it fun and have your DJ play the centerpiece giveaway game.
There are a few ways to play:
Closest Birthday – Whoever has the closest birthday, without it recently passing, wins your centerpiece.
Pass the Napkin – Similar to the childhood game, hot potato, pass the napkin until the music stops. Whichever guest is holding the napkin when the music stops, is out. Continue this trend until one person remains. They will be the winner and get to take your centerpiece home.
Anniversary Couple – A beautiful way to highlight the importance of long -lasting love. The couple who has been married the longest gets to take the centerpiece with them at the end of the night.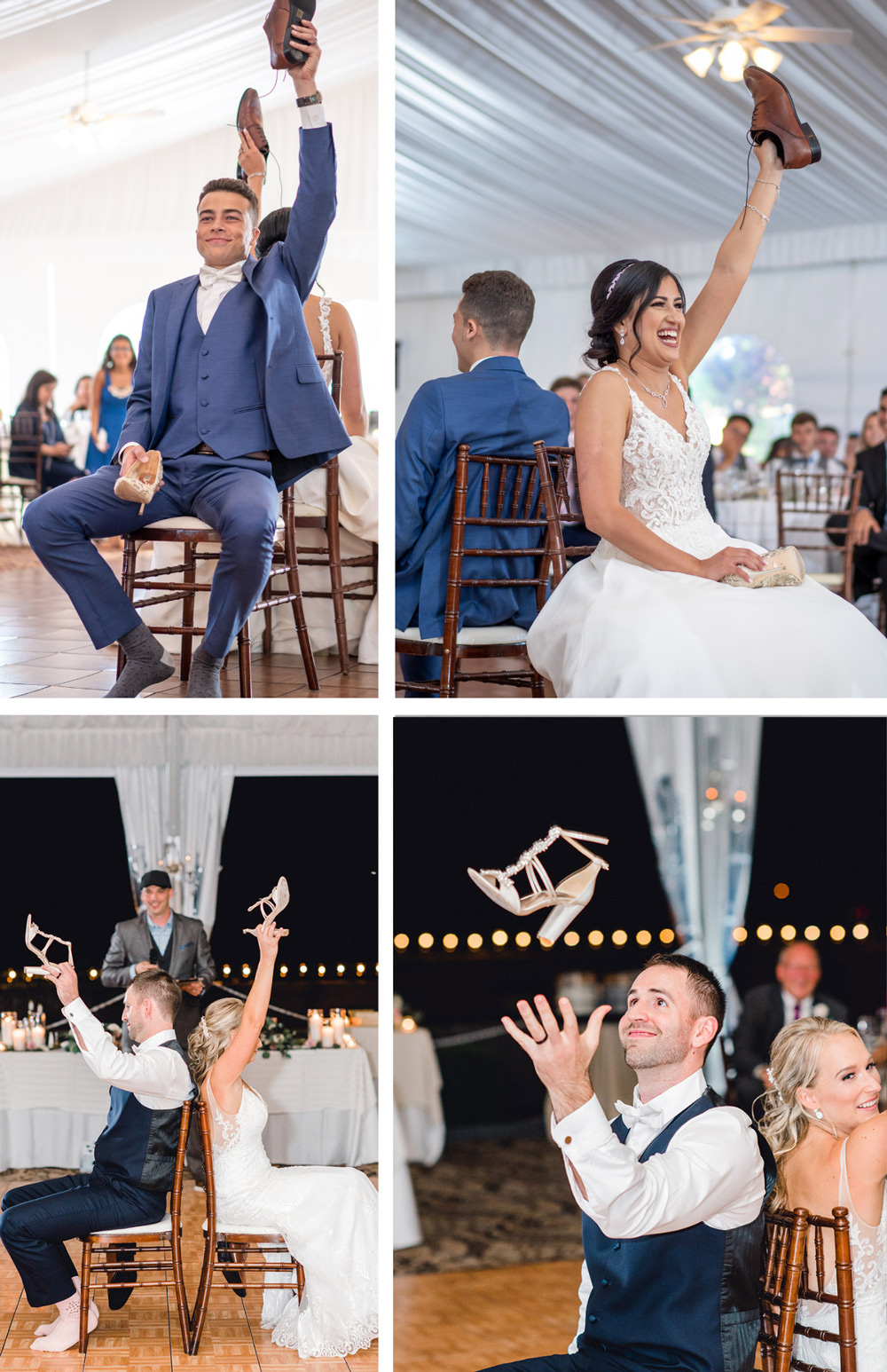 Lawn games are great for those of your wedding guests who want an alternative to dancing. If your dream venue is an outdoor location, or features an outdoor area, take advantage of the space with lawn games. Your non-dancing guests can grab a drink and head outside for some friendly competition. Below you will find some of our favorites.

Corn Hole tops our list as being a crowd favorite! Not only does it offer hours of entertainment but it's great when kids are running around as well. And if you want to really impress your guests, order a custom monogrammed corn hole set from Zazzle for only $215! Think of all the fun you'll have taking on your wedding party in a dance free corn hole tournament. Best of all you get to keep the game and enjoy years of backyard gaming.
Giant Jenga has recently become a popular wedding activity. Marriage is a game of balance, and no game better represents that than Jenga. Giant Jenga is the super-size version of the well-loved game. These pieces can also be customized, like this beautiful set found on Etsy. Make sure your photographer snaps lots of pictures of your guests reaction when the tower falls!
Giant Checkers are sure to keep the guests entertained. Roll out a checkered game board rug on the grass and incorporate your wedding colors by painting the pieces accordingly. Or, opt for a smaller, more budget friendly, oversized version of checkers like this one found on Amazon.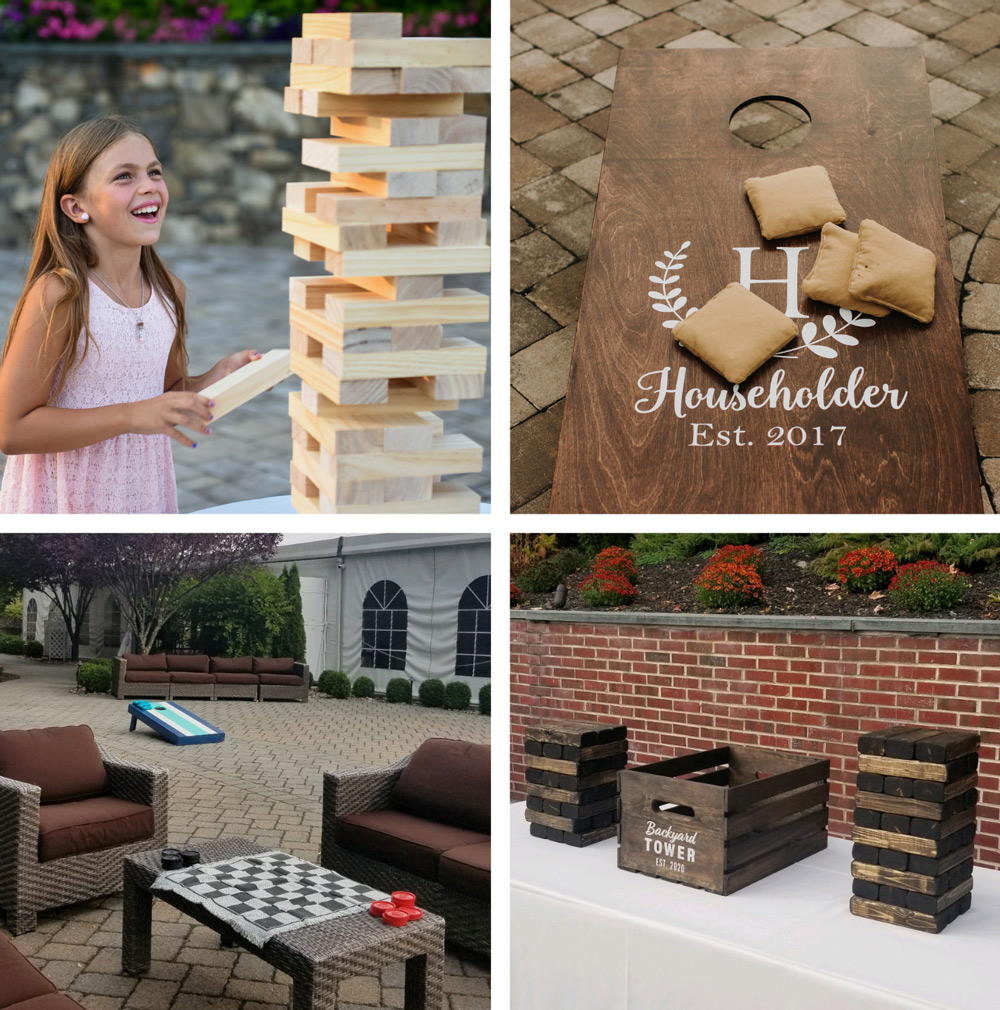 You can include more creative entertainment that's unique to the two of you. Starting with a slide show. Share your love story with your guests by playing a slideshow full of pictures from over the years. Have your friends and family see your journey as a couple. Selecting a fantastic DJ/Entertainment Group can bring these options to life. You can start your vendor search by visiting the Hudson Valley Wedding Professionals Directory. Having a DJ at your wedding will arrange all of your ideas to fit perfectly into a timeline for the evening. The MC will encourage your guests to be involved in your celebration. Here are some ideas for entertainment.
Love of sports…Who doesn't love sports? Live streaming a sporting event during a wedding is a great way to entertain your guests. You can feature the highlights of an amazing game. Certain Sports are more popular during a specific time of year. For example the European Champion Soccer League starts in July and usually ends by October. You can check online to see if there's a big game on your wedding day!
Live Entertainment… Everyone loves a great band. You can sing along to your favorite tunes while watching an amazing performance. Your friends and family are inspired to join them. Who doesn't enjoy a little bit of karaoke? For sure friends and family are going to shed a couple tears during the wedding but what about tears of laughter? Having a comedian perform will have your guests cracking up. You can inquire about comedians that are local and popular to your area.
DIY Wedding Favors are an amazing way to say thank you for celebrating a memorable occasion. So why not give your guests the options to create their own favor. Pinterest is a great site to search for ideas with step by step instructions. It gives your guests the option to choose what they like the best. It can be super simple like Make Your Own Trail Mix.
Or more hands on, like plant your own succulent.
The Classics… During the reception you can't go wrong with the classics. Including a photo booth in your package with your DJ or Photographer will ensure your guests have a fantastic time taking photos with fun props with friends and family. Include a frame purchased through Etsy so they can take the photos as a "thank you." Make sure you receive a copy of the photos too, so you can laugh along later on. A Cigar Bar is another classic that your guests will enjoy. Have a cigar roller on site to enhance their experience. Add custom matches with your wedding date and a creative label like "Perfect Match" found on Etsy.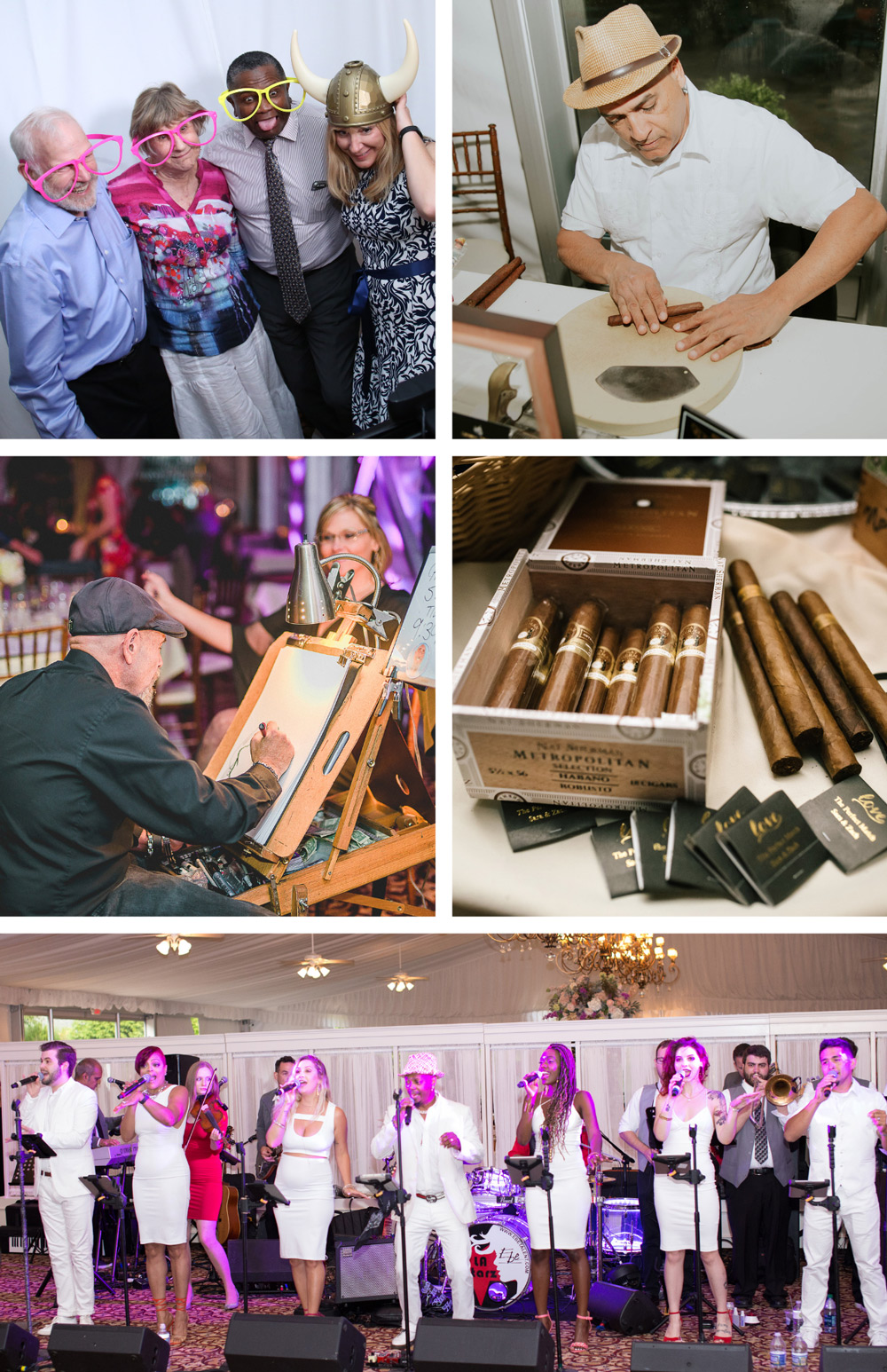 4
Food, Food, & More Food!
Enhancing your wedding day with more food is always a good idea. Whether your vision of the perfect after dinner snack includes a sugar rush or a plateful of your favorite savory bites, we promise that reception treats will be a hit with every person in attendance.
Late Night Bites – After a long night of celebrating your nuptials, late-night noshes will be long overdue. These reception additions do not have to be elaborate. In-fact, simple comfort foods are the way to go.
Bacon Egg and Cheese Sandwiches are sure to hit the savory lover's sweet spot. Pair this with loaded french fries and mozzarella sticks to fulfill all of those savory cravings. Pro Tip: To get more bang for your buck, have this serve as a to-go treat and favor. Add a customized sticker, like this one on Zazzle, to each individually wrapped sandwich.
Wheel in the good times- and good bites- with a Hot Dog Cart. America's favorite snack will surely catch your guests attention and be a memorable addition to your wedding. Don't forget to provide all of the classic toppings like chili, jalapenos, sauerkraut, baked beans, etc.
Mac and Cheese Waffle Cones are the perfect twist on a classic comfort food. This one-handed meal will definitely have your guests talking (after they devour it, of course).
Dessert Stations- Instead of a single slice of cake, why not offer a variety of sweet treats that guests can pick and choose from? Frosted pastries and elaborate dessert presentations beg wide-eyed guests to indulge.
Surprise your guests after dinner with a frosty Milkshake Station! Not as messy as ice cream, cooler than baked goods and easy to provide multiple flavors. An added bonus is they can be paired with other desserts like cookies or donuts creating a fun and colorful display.
If you are planning an Instagram-worthy wedding, one detail you don't want to overlook is a Donut Wall. What's sweeter than an entire wall decked out with donuts? This dessert idea serves as fun wedding decor that is interactive and functional. Spruce up your donut wall by adding fun decorative signs like this one on Etsy.
For a fun late night snack, let guests dish up a bowl of their favorite cereal at a Gourmet Cereal Bar. We know what you're thinking, but don't laugh- it is cereal-ously delicious. Serve a variety of cereals with milk (think back to your childhood favorites like Lucky Charms, Reese's Puff, Cinnamon Toast Crunch, Trix, etc.) in fun vessels like stemless wine glasses or mason jars. Have different types of fruit available for guests to top off their sweet treat.
Whether your guests consider themselves to have two left feet or moves-like-jagger, we know they will all have one thing in common, a drink in their hand. Focus on crafting beverage experiences that are sure to wow all of your guests. We love the ideas below!
Mimosa/Bellini
Pick Your Passion:Champagne, Prosecco, Vodka, Gin, Sparkling Water
Pick Your Mix: Peach Purée, Pear Purée, Orange Juice, Cranberry Juice, Pineapple Juice
Top It Off: Strawberries, Blueberries, Raspberries
Margaritas
Listen to what they say, "One tequila, two tequila, three tequila, floor," and offer your guests multiple tequilas including both silver and gold options.
Feature infused salts and flavored sugars to rim the margarita glass.
Fresh fruit purées will give the classic margarita a delicious twist.
Sangria
Use locally sourced, seasonal fruits to create three varieties of Sangria. Offer a red, white, and blush sangria.
Guests can choose one or try all three!
Finish off the evening with late night Freeze Pops, alcohol infused of course. Offer spiked lemonade pops and frozen margaritas too. These are sure to keep the celebration going, as they are passed around to your guests during the last hour of your reception. Frosé anyone?!