2020 Hudson Valley Event Professional & Planning Guide
Put your business in front of thousands of local potential clients in need of your services.
The Bonura Hospitality Group is passionate about providing the best service to every one of our clients. Our success in creating extraordinary events stems from working with event professionals who share our vision for creating dream events. We are happy to provide a platform for you to reach local wedding couples and event clients with your own personal touch.
Ad submission deadline is Thursday, June 20, 2019
Reach local clients who are actively looking for your services.
Everyone who walks through the doors at any Bonura Hospitality venue receives a copy of this guide and information driving them to our online directory.  Get noticed by featuring your business on our highly targeted materials!
The 2018/19 edition has been distributed to over 2,500 local wedding couples and other clients seeking your professional services.
Since its release, our online listing directory has seen over 13,000 pageviews and growing! We want you to be our partner and sharing in this success.
If you offer event based services, you need to be in this book!
Vendors include: Announcements, Bachelor/Bachelorette Parties, Beauty, Bridal Gowns, Registry, Veils, Calligraphy, Catering, Ceremony Accessories, Officiants, Dance Instruction, Decor, Disc Jockeys, Entertainment, Favors, Florists, Food Trucks, Guest Accommodations, Hair, Honeymoon & Travel, Invitations, Jewelry, Limousines & Transportation, Linens, Makeup, Photo Booths, Photographers, Salons & Spas, Skincare, Tuxedos, Videography, Wedding Consultants and much more.
We divide the book into categories, grouping like services.  Specialty positions such as centerfold, back cover and inside front & back cover will be available on a first come, first served basis.  Ads are placed in alphabetical order, We cannot guarantee left or right page placement.
Other Information
All ads will be four color CMYK.  Flattened PDF or JPEG, Resolution 300 dpi.  All Text must be either outlined or rasterized to avoid font issues.  Please keep type .25 inches away from edges and allow for .125 inches on all sides for bleeds so your important information does not get trimmed.  Color matching is not guaranteed and we will not supply ad proofs.  Final Full-Page Ad size with bleeds is 8.75in wide x 11.25in tall, final half-page ad size is 8in wide x 5in tall.
This publication will be launched and distributed by The Bonura Hospitality Wedding Show taking place Wednesday, September 25, 2019.
Ad submission deadline is Thursday, June 20, 2019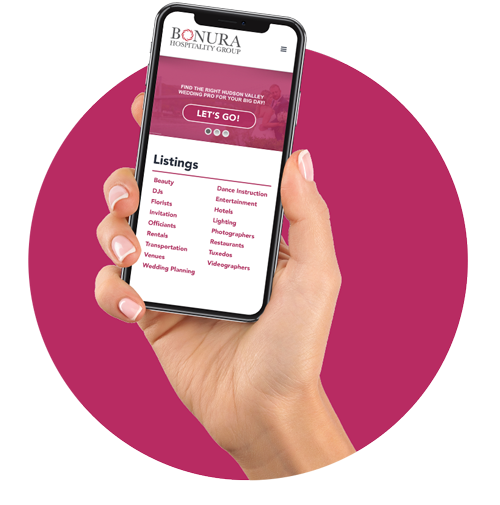 The online directory, located at pros.bonurahospitality.com, gives you the ability to promote your business they way you feel best.
Along with a hyperlink back to your website and your phone number, you can give potential clients a personal description of your business, upload photos, link to both Facebook & Twitter accounts, and even receive messages, all from your business profile page.
Each Bonura Hospitality venue website including Anthony's Pier 9, The Grandview, The Poughkeepsie Grand Hotel, West Hills Country Club, Shadows on the Hudson and Blu Pointe link to the online directory.
Our event venues also distribute a rack card to drive qualified clients to this convenient resource to find your business.
BHG Wedding Show Discount
Your participation in the 2020 Hudson Valley Event Professional & Planning Guide also includes a discount at the Bonura Hospitality Wedding Show taking place September 25, 2019 at The Grandview in Poughkeepsie. It's just our way of saying thank you for supporting our passion of making dream events come true.
Email Referral to Booked Clients
The Bonura Hospitality sales team meets with thousands of clients every year, ready to book. Each client who walks through our doors receives a copy of our 2020 Hudson Valley Event Professional & Planning Guide along with our rack card promoting the online listing directory.
Immediately upon booking, a personalized email will be sent to each new client. This email will list all vendors who advertise in our book with a link to their business.